Case for AirPods 2 / AirPods 1 silicone soft cover for headphones + keychain carabiner pendant black (case D)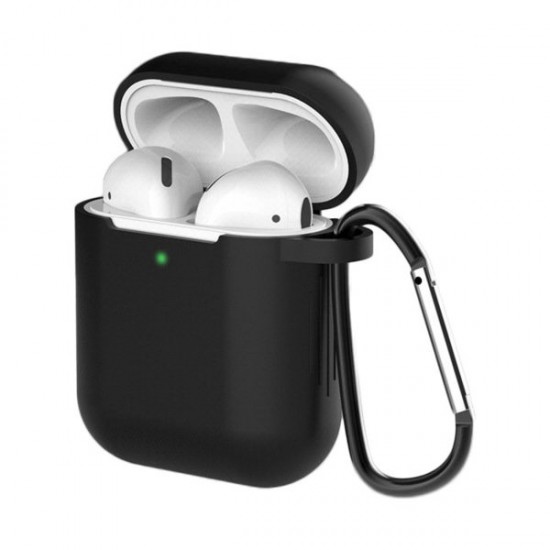 Case for AirPods 2 / AirPods 1 silicone soft cover for headphones + keychain carabiner pendant black (case D)
In Stock

Code:

005451

EAN:

9145576238516
FREE SHIPPING FOR ORDERS ABOVE 50€
Case for AirPods - silicone, soft cover for headphones + keyring / carabiner / pendant
Do you own AirPods and are worried about accidentally breaking them? Choose a durable and functional case with a metal ring in the set. It is full protection against scratches, cracks and ... loss!
Key benefits of the silicone AirPods case with carabiner:
A silicone cover with a carabiner, thanks to which you will avoid losing your headphones
Comprehensively protects against the effects of blows or falls
It will give your headphones a unique color
Compatible with wired and wireless chargers
Carabiner for help
The AirPods case is very handy, but due to its small size, it can be easily misplaced. So put on a cover with a matching carabiner - use the ring to attach your headphones to your purse, backpack or tourist bag.
Cover soft, light but durable
The silicone of the AirPods case perfectly fits the original shape of the headphones, leaving no gaps. The cover is very light (2 mm thick), but it perfectly protects the headphones against the effects of falls, bumps and shocks.
Get rid of dirt quickly
When choosing a cover made of silicone, you do not have to worry about both damage and dirt. If you want to get rid of e.g. fingerprints or unwanted stains, just gently wipe the case with a damp cloth. Ready!
Functional case in five colors
The silicone case for AirPods comes in several unique, elegant colors. The carabiner included in the set has a classic black color.
Charge as you like
Do you prefer to charge your headphones wirelessly or wired? For AirPods cases, it doesn't matter which method you choose - the cover allows you to charge your headphones any way you want. You don't need to take the cover off anymore if you want to charge your AirPods!